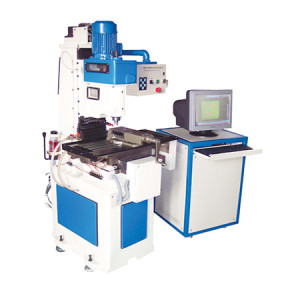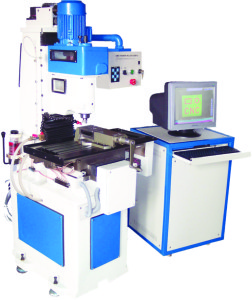 CNC Trainer Milling Machine : Model-HEM10
Pc Based Indigenous CNC System
Floor Standing Robust Machine
Part Programming with ISO G Codes
Offline Graphical Simulation Facility
Steel Cutting Machine
Axis driven by Stepper Motors
2HP, AC Spindle with VFD
Self Diagnostic facility
Password protection
Ball Screw driven Axis
Emergency stop
Supervisor lock facility
3+1 Axis
Description
Additional Information
Reviews (1)
Specifications
Product Description
The HEM10 Trainer Milling is the basic and indigenous model for imparting training of CNC curriculum to the students. HEM10 is designed specifically to fulfill training needs of modern engineering programs. Simultaneously 3 axis control enables linear interpolation is three dimensions and mulch-quadrant circular interpolation. Several part programs are provided with the machine to demonstrate face & Side milling, grooving and drilling operations. HEM10 provide a versatile PC Based CNC System at affordable cost.
PC Based CNC ControllerSimulate UtilityRobust Mechanical SystemSafety and Emergency
The HEM10 Milling is operated under program control using a dedicated PC. The user interface is an integrated development environment used for entering part programs, simulating the resulting tool movements, editing the part program as required and finally machining the actual part.
Actual machining operation is password protected and electronically interlocked so that the supervisor is always in control avoiding mishandling of the system by students. While executing the part program of HEM10, system scrolls the program instructions and identifies the command line currently being executed allowing the student to co-relate each instruction with the machine operation.
The system allows entering of offsets to impart training in the intricacies of tool wear and tool-nose radius compensation. Spindle and coolant pump ON/OFF under program control using standard M Codes is provided. A special section on diagnostics allows the student to quickly check and troubleshoot operation of the various limit switches and individual axis motions.
With the simulate function provided in the HEM10 trainer the student can quickly check tool path motions on the PC screen and amend mistakes before attempting to machine the part. This function reduces development time and minimizes chances of machine damage and wastage of material. The simulate utility of HEM10 has built in syntax Check and online help making it as invaluable tool for training in Part Programming. Mirror utility, subroutine call and canned cycles in HEM10 enables user to easy develop intricate shapes.
The HEM10 trainer milling is built on a rugged and sturdy fabricated Base. All axis are driven by powerful stepper motors and ball screws which makes cutting of steel possible. Spindle equipped with VFD allows speed variation and makes user understand the basic and proper metallurgy for machining operations
The HEM10 has in built limit switches which automatically inhibit motion beyond allowable limits to avoid damage to the machine. An emergency stop provided on the main machine is active all the time and will disable all motions and spindle drive as soon as it is pressed.
Additional Information
| | |
| --- | --- |
| Model | HEM10 |
| Warranty | One Year |
---
Only logged in customers who have purchased this product may leave a review.
Mechanical CapacitiesElectrical capacitiesCNC SystemStandard Accessories
| | |
| --- | --- |
| Machine Type | Floor Standing Machine |
| Machine Structure | Fabricated Structure |
| Travel X axis | 200 mm |
| Travel Y axis | 125 |
| Travel Z axis | 100 mm |
| Table Size | 700 x 200 mm |
| Spindle Nose Taper | R 8/ISO 30 |
| Spindle Bore | 20 mm |
| Spindle to table distance | 175 mm |
| Spindle to Column distance | 250 mm |
| Transmission | Ball Screw & Linear Guide ways |
| Lubrication system | Manual Pump |
| Coolant Tank Capacity | 20 Liters |
| Machine weight | 900 kg |
| Machine Size | 1000 x 700 x 1400 mm |
| | |
| --- | --- |
| Spindle Motor | 2 H.P AC Induction Motor |
| Spindle Speed | 100 - 1400 rpm |
| Spindle Drive | Variable Frequency Drive |
| Axis Motor | Stepper Motor |
| Number of Axis | 3 |
| Supply | Single Phase 220 V |
| | |
| --- | --- |
| CNC Controller | Indigenous Controller make 3D Technologies |
| Type of Control System | PC based System |
| Tool Path Simulation | Provided |
| Input System | Metric/Inch |
| Backlash compensation | Provided |
| Axis Feed Rate | 10 – 100 mm/min |
| Axis Rapid rate | 500 mm/min |
| Accuracy | ± 0.050 mm |
| Resolution | 0.01 mm |
| Repeatability | ± 0.020 mm |
| Precision | ± 0.030 mm |
| Interpolation | Linear & Circular |
| CNC Programming | ISO ( G , M , F, T Codes) |
| Program Dwell | Provided |
| Block Skip Function | Provided |
| Emergency Stop | Provided |
| Supervisor Lock | Provided |
| Password Protection | Provided |
| Graphical Simulation | Offline Simulation Provided |
| Self Diagnostic Function | Provided |
| | |
| --- | --- |
| End Mill Cutter (H.S.S) | Diameter 12 mm |
| End Mill Cutter (H.S.S) | Diameter 6 mm |
| Collets for Cutters | Diameter 12 mm & 6 mm (1 Each) |
| Machine Vice | 100 mm |
| Set of Parallel Packing for Machine Vice | 1 Set Provided |
| Manual Lubrication Pump | Provided |
| Coolant Pump + Coolant Oil (1 Ltr) | Provided |
| Manual explaining Training, Operations, Experiments and Machine's working | Provided |
| Raw Material for trial | 100 x 100 x 10 mm (Material Mild Steel) |
| Vibration Damping Pads | Provided (4 Nos)Provided (4 Nos) |
| Tool Kit containing Allen Keys, Screw Driver, Spanner as required in machine | Provided (1 Each) |
| PC with Display Screen | Provided (1Each) |
| CVT for Machine | 2 KVA |
Related Products
PC Based Indigenous CNC System
Floor standing robust machine
Part Programming with ISO G Codes
Offline Graphical Simulation Facility
Steel Cutting Machine
Axis driven by Stepper Motors
2HP, AC Spindle with VFD
Password Protection
Supervisor Lock Facility