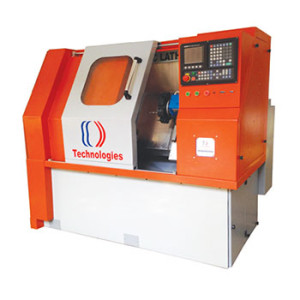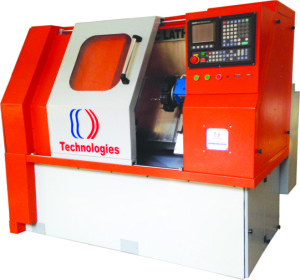 CNC Turning Center : Model-MCL14
Industrial CNC Controller
Axis driven by heavy servo motors
Slant Bed
Heavy Duty, Cast Iron Structure
8 Station automatic tool structure
Steel cutting machine
3HP, AC Spindle with VFD
Automatic lubrication system
Travel : X Axis 150mm | Y Axis 250mm
CAD/CAM Compatibility
Safety Alarms & self Diagnostics
Cartridge spindle: ISO 40 taper
Description
Additional Information
Reviews (0)
Specifications
Product Description
MCL14 Lathe is a Production CNC Lathe Machine with advanced electronics as well as mechanical features. This model can also be used for imparting training and hands on practice of CNC curriculum to the students. MCL14 is designed to work and also learn Industrial CNC and its working at an extra cost.
Running on advanced Industrial CNC Controller, Closed loop CNC Lathe MCL14 provides a accurate machined work pieces and ensures mass production. Designed for mass production application, MCL14 simultaneous 2+1 axis control enables complete possible interpolations.

Robust Mechanical with advanced CNC ControllerSafety and Emergency
The MCL14 Lathe is robust built, Slant Bed and capable to handle heavy depth of cuts. It is accompanied with a faster and precise 8 Station Tool Turret. On screen user interface, CAD/CAM compatibility allows faster machine processes. Hydraulic Power Chuck allows Job holding precise and faster.
In MCL14 lathe both axis are driven by powerful Servo motors and ball screws along with Linear Guideways which makes production of various parts possible. Re circulating Coolant Supply, Automatic lubrication provided in the machine ensures trouble free machining process and long machine life.
The MCL14 has in built safety features, self diagnostic screen to ensure safe working environment of the operator. Soft Limits & Electrical Limit switches prohibit motion beyond allowable limits to avoid damage to the machine. An emergency stop provided on the main machine is active all the time and will disable all motions and spindle drive as soon as it is pressed.
Additional Information
| | |
| --- | --- |
| Model | MCL14 |
| Warranty | 1 Year |
---
Only logged in customers who have purchased this product may leave a review.
Mechanical CapacitiesElectrical capacitiesCNC SystemStandard Accessories
| | |
| --- | --- |
| Machine Type | Floor Standing Robust Machine |
| Machine Structure | Fabricated Cast Iron Structure |
| Machine Bed | Slant Bed |
| Center height | 200 - 250 mm |
| Swing over axis | 100 mm |
| Travel X axis | 150 mm |
| Travel Z axis | 300 mm |
| Chuck | Self Centering 3 Jaw Chuck |
| Spindle Nose Taper | ISO 40 |
| Spindle Bore | 32 mm |
| Spindle Type | Cartridge Spindle (A 2-4) |
| Maximum machining Diameter | 100 mm |
| Transmission | Ball Screw & Linear Guide ways |
| Lubrication system | Automatic Lubrication Pump |
| Coolant Tank Capacity | 40 Liters |
| Machine weight | 1400 kg |
| Machine Size | 2000 x 900 x 1000 mm |
| | |
| --- | --- |
| Spindle Motor | 3 H.P AC Induction Motor |
| Spindle Speed | 100 - 2800 rpm |
| Spindle Drive | Variable Frequency Drive |
| Axis Motor | Servo Motor |
| Number of Axis | 2 |
| Supply | 220v,50hz,3 phase for machine |
| Automatic Tool Turret | 8 Station Automatic Tool Turret |
| | |
| --- | --- |
| CNC Controller | HUST CNC Controller H4C-T with Panasonic Servo System |
| Type of Control System | Industrial CNC Controller with provision to connect to PC |
| Tool Path Simulation | Provided |
| Input System | Metric/Inch |
| Backlash compensation | Provided |
| Axis Feed Rate | 0 – 3000 mm/min |
| Axis Rapid rate | 5000 - 10000 mm/min |
| Resolution | 0.001 mm |
| Repeatability | ± 0.002 mm |
| CNC Programming | Standard ISO ( G , M , F, T Codes) |
| Program Dwell | Provided |
| Block Skip Function | Provided |
| Emergency Stop | Provided |
| Supervisor Lock | Provided |
| Password Protection | Provided |
| Graphical Simulation | Online Simulation Provided |
| Self Diagnostic Function | Provided |
| DNC communication | Possible |
| CAD/CAM Compatibility | Possible |
| Hand wheel operation | MPG for manual operation (Optional) |
| Co-ordinate system | Absolute and incremental |
| Axis feedback | 100% Closed Loop |
| Option skip function | Available |
| Optional stop and feed hold function | Available |
| Manual data input | Available |
| Online acceleration/Deceleration | Available |
| Mirror effect cutting | Available |
| Tool radius compensation | Available |
| Rectangular grooving | Available |
| Circular grooving | Available |
| Boring canned cycle | Available |
| Soft over travel limits | Available |
| Feed rate commands | Either mm/min or mm/rev both possible |
| Feedback resolution of axis motor | 10000 pulses per revolution |
| Feedback of spindle motor | 4096 pulses per revolution |
| Interpolation of Axis | Two axis at any time |
| On Screen Diagnostics | Possible |
| Output Control in Auto & MDI mode | Possible |
| Input feedback in Auto Mode | Possible |
| On Screen Line Simulation | Possible |
| Feed Override | 0-150% |
| Spindle override | 0-100% |
| | |
| --- | --- |
| Turning & Facing Tool with spare Insert | Shank 20 mm |
| Brazed Parting Tool | Shank 20 mm |
| Threading Tool with insert | Size 20 mm |
| Boring Bar | Size 12 mm |
| Automatic Lubrication Pump | Provided |
| Coolant Pump + Coolant Oil (1 Ltr) | Provided |
| Manual explaining Training, Operations, Experiments and Machine's working | Provided |
| Raw Material for trial (Steel Rod mm) | Provided (1 Nos) |
| Vibration Damping Pads | Provided (4 Nos) |
| Tool Kit containing Allen Keys, Screw Driver, Spanner as required in machine | Provided (1 Each) |
| Isolation Transformer | Provided |
| 8 Station Automatic Tool Turret | Provided |