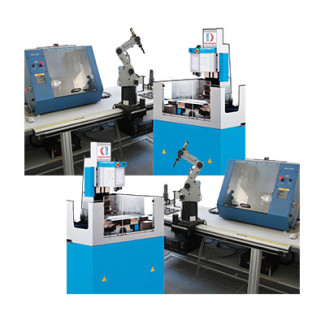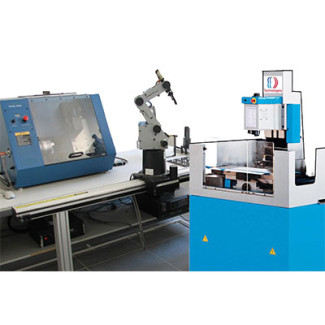 Flexible Manufacturing System
Model : HEM14
Key Features
CNC Lathe Machine. ( Model : MCL6 )
CNC Micro Milling HEM-6
Robotic arm MCRT-6
Linear shuttle conveyor
Storage & Retrieval System
Description
Additional Information
Reviews (0)
Specifications
Download Catalog
Product Description
FMS10 is our model for Flexible Manufacturing System. FMS10 is an automatic manufacturing system which describes Raw material Handling, Its manufacturing on CNC Machines as well as storing.
Comprising of a Mini CNC Lathe, CNC Milling along with a Robotic Arm using Conveyor system, FMS10 describes the complete automated manufacturing process in an easier and comfortable manner. FMS10 is controlled by PLC based HMI (Touch Screen) which allows users to be well versed in the modern day technology.
Robust Mechanical with advanced CNC Controller
The FMS10 system is robust built with capability to handle mild cuts on steel. On screen user interface, CAD/CAM compatibility allows faster machine processes. Servo powered Machine axis allows precise and faster operations. The inclusion of Robotic arm along with conveyor system only completes the FMS.
Safety and Emergency
The FMS10 has in built safety features, self diagnostic screen to ensure safe working environment of the operator. Soft Limits & Electrical Limit switches prohibit motion beyond allowable limits to avoid damage to the machine. An emergency stop provided on the main machine is active all the time and will disable all motions and spindle drive as soon as it is pressed.
Additional Information
| | |
| --- | --- |
| Model | FMS10 |
| Warranty | 1 year |
---
Only logged in customers who have purchased this product may leave a review.
Mechanical Inclusions
Mini CNC Lathe Machine (Model MCL 6)

·         Travel – 60 mm both X & Z Axis

·         Max Turning Diameter = 20 mm

·         Chuck Size (Pneumatic) = 100 mm

·         Controller = HUST Industrial CNC Controller

·         Axis Motor = AC Servo (Make Panasonic)

·         Spindle Motor = AC Induction 1 H.P rated

·         Automatic Lubrication System
Mini CNC Milling Machine (Model HEM6)

·         Travel X Axis  = 120 mm

·         Travel Y Axis  = 100 mm

·         Travel Z Axis  = 100 mm

·         Spindle Nose Taper = ISO 30

·         Axis Drive = Ball Screw & Linear Guideways

·         Controller = HUST Industrial CNC Controller

·         Axis Motor = AC Servo (Make Panasonic)

·         Spindle Motor = AC Induction 1 H.P rated

·         Automatic Lubrication System
Robotic Arm  (Model MCRT 6)

·         Axis 1 :  Base Rotation 270 degree

·         Axis 2 :  Shoulder Rotation 105 degree

·         Axis 3 :  Elbow Rotation 100 degree

·         Axis 4 :  Wrist Pitch 120 degree

·         Axis 5 :  Wrist Roll 140 degree

·         Pneumatic End Effectors

·         Programmable HMI Screen

·         Motion Controller

·         Servo Driven Axis
Shuttle Conveyor

·         Length = 2 -3 Meters

·         Speed = 5 meters/min

·         Driven by DC Gear Motor

·         Homing Sensor

·         Positioning Sensor
Storage System

·         Aluminum Extrusion Rack Construction

·         Storing Space for Raw Material

·         Storing Space for finished Material

·         Separate rack for work pieces
Electrical Inclusions
AC Spindle Motors for CNC Lathe & CNC Milling
Variable Spindle Speed with Variable Frequency Drive
Servo Motorized Axis
Motion Controller
CNC Controller
HMI Touch Screen
Standard Accessories
Side Mill & Face Cutter for Milling
End Mill Cutter (H.S.S) for CNC Milling
Turning and grooving tool for CNC Lathe
Drill assorted
Collets for respective toolng
Pneumatic grippers
Automatic Lubrication Pump
Coolant Pump + Coolant Oil (1 Ltr)
Manual explaining Training, Operations, Experiments and Machine's working
Raw Material for trial
Vibration Damping Pads
Tool Kit containing Allen Keys, Screw Driver, Spanner as required in machine
Isolation Transformer
Optional Accessories (At extra Cost)
Assorted Tooling and Holders as per requirement
Manual Pulse Generator (MPG) for manual axis movements
Tool Adopter and collets as per requirement
Job Clamping Kit
Pneumatic Compressor s